Your vehicle has broken down or crashed on the highway or you are witnessing an emergency situation: here is what to do!
What to do in an emergency on a motorway?
In an emergency, 6 instructions to follow: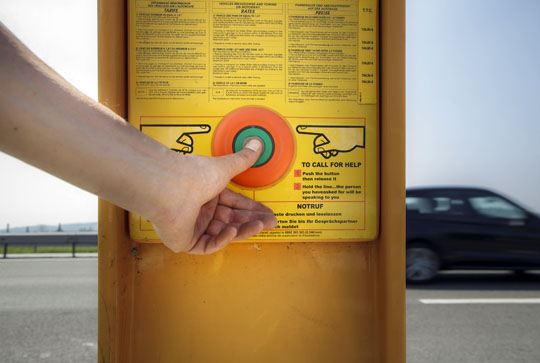 Preserve your life and that of your passengers if you have to stop on the emergency stop lane:
Turn on your vehicle's hazard lights.
Put on your yellow safety vest before getting out of the vehicle.
Exit your vehicle on the right (passenger side).
Take shelter behind the safety barrier and reach the nearest emergency call point.
Call from an emergency call station linked to the security services or from the SOS Autoroute application.
Wait for the intervention teams behind the safety barrier.
Please note: it is not compulsory to set up your red triangle if you are immobilized on the motorway. This can be dangerous for your safety.
Roadside assistance
For troubleshooting you must contact us via an emergency call point or with the SOS highway application. In fact, only approved convenience stores are authorized to operate on the highway. Roadside assistance requires specific approval for safety reasons linked to the motorway context (high vehicle speed and heavy traffic), but also to guarantee compliance with quality and response times. The rates for roadside assistance and towing are set by order of the Ministry of the Economy and Finance. For so-called "light" vehicles, these tariffs are regulated. For your safety and that of your passengers, do not take unnecessary risks: do not try to troubleshoot or change a wheel yourself on the highway!

Consult the rates for roadside assistance