By 2024, the Normandie motorway (A13-A14) will be the first motorway in France to completely replace barrier tolls with a free-flow system. Find all the information you need to travel well here.


What is the free flow Highway?
Already present in many countries (Norway, Chile, United States...), the free flow motorway replaces toll barriers with vehicle detection gates. No need to stop at the toll booth to pay: it's a new way to travel!
How does the free flow motorway work?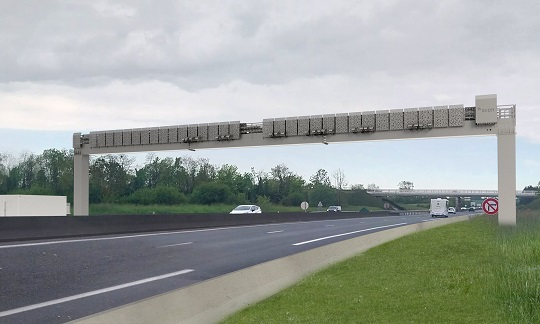 Do you have a toll tag?
This is detected by the portal and you are automatically debited at the end of the month, it's that simple! 
You don't have a toll tag?
The gantry reads the number plate of the vehicle and you can pay:
- Automatically: by associating the number plate with a bank card for 48 hours or for the year.
- In the days following the journey: simply log on to the website or contact an advisor by telephone and state the number plate. For customers who need it, it will be possible to pay on and off our motorway network. The advantage is that it will be possible to pay in one go. For example, for a return trip between Paris and Caen over a weekend, customers will be able to pay in one go on Monday morning, as opposed to 10 stops at the toll gates at present.
Quels bénéfices pour les automobilistes ?
+
Fluide
plus besoin de s'arrêter pour régler son passage. Un vrai gain de temps en période de trafic intense,
+
Sécurisé
moins de stress pour trouver la bonne file à l'approche du péage et choisir son moyen de paiement.
+
Responsable
moins de carburant consommés dans les trajets, moins d'émissions de CO2 dans l'atmosphère,
And when is it due?
The free flow already exists in France, and is gradually expanding:
In March 2019, the Sanef group opened the Boulay-Moselle free-flow toll on the A4. More than 4.5 million transactions have already been recorded.
In 2023 in the Allier region, the APRR group will transform 88km of the RN79 into a free-flow toll motorway.
In 2024, the 210km of the Paris-Normandie motorway will be free-flowing, find below the main dates of the project.
Ecoutez l'épisode "Flux libre" de notre série de podcasts #LesVoixdeSanef
To go further: