Last night you took your break in a rest area not dedicated to truck parking. Tonight, you want to sit down to dinner and benefit from the equipment and services designed for truck drivers like you. You want to stop at a service area with secure parking for heavy goods vehicles in order to spend the night there without worrying about the safety of your load… Yes, but which one?
Truck parking at our motorway service areas
5000
truck parking spaces
Find the truck parking area on your route
With a service area on average every 50 km, the choice is yours. So, before switching on the ignition, take a few minutes and consult our travel preparation help media: Sanef&Vous app, service maps.
Have you located the highway service areas you will be taking with our interactive map? In a few clicks, discover now the catering brands and shops to make your selection.
A tip? Also look out for our pictograms so you don't miss out on our "little extras": rest areas, wi-fi, sports trails...
Varied catering services for your road break
Table service, self-service, sandwiches on the go or fast food: at our service areas, the catering service is running at full speed so that you can vary your meals according to your tastes, your desires, your budget and the time you have available.
And if you prefer to compose your own meal, the shops offer a wide range of products, from major brands to regional specialities.
On the A1 motorway, you have chosen to spend the night at the Cœur des Hauts-de-France Ouest rest area :  after parking your truck in the heavy goods vehicle parking lot separate from light vehicles, head for the showers in the commercial building and then the restaurant.
Here you can sit at a table in a restaurant, opt for self-service or eat a sandwich at the counter. What about shopping? Bread, drinks, fruit, savoury and sweet dishes, but also hygiene products and everyday items: in the shop you will find everything you need to eat or to continue your journey.
Finally, if you want to relax, take a look at the press area, connect to the free wifi or simply have a coffee before returning to your truck.
The driver's rest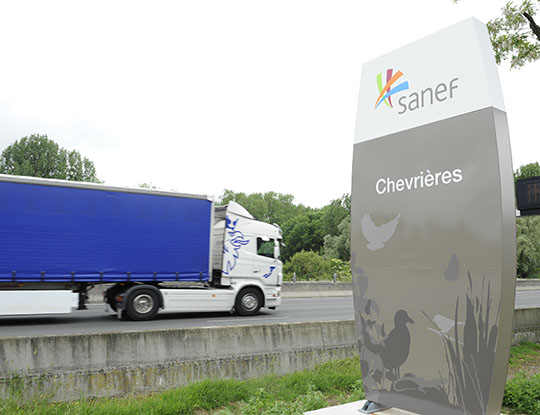 When it's time to take a break, you prefer smaller, quieter areas. Our rest areas are designed for you... and your truck: dedicated parking spaces away from cars, sanitary facilities with access to drinking water everywhere, green areas with trees. Here the break is quietness, nature and serenity.
To get off the beaten track, plan a stop at the Chevrières area located on the A1 motorway towards Lille, at kilometre 60 between exits 9 and 10.
Here you will find showers, deckchairs, a barbecue, a table tennis table and a mini fitness trail to relax your body and mind. Not forgetting an educational trail built around a pond to highlight the local flora and fauna, for a pleasant walk in the middle of nature... just a few metres from the A1!
Our rest areas have other surprises in store for you, as you drive through the countryside: plains, forests and even the coastline are never far away. You have the choice, there are 124 along our motorways!
Areas dedicated to parking heavy goods vehicles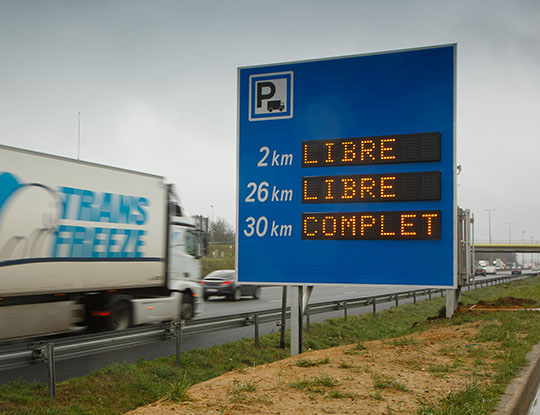 Our motorways are among the major freight routes to Eastern and Northern Europe. Like you, many drivers use the A1, A4 or A26 and like you, many of them take a break at our rest areas with a primary need: to park safely.
On our 72 service areas and our 124 rest areas you have free access to more than 5,000 locations.
And we have just created 500 new places dedicated to the parking of heavy goods vehicles to further increase our reception capacity in our areas and guarantee you easy and safe parking.
No question for you to exceed your driving time! So, on the A1 where 1 in 4 vehicles is a heavy goods vehicle, we inform you of the availability of parking spaces reserved for you in the following 3 areas. Pay attention to the luminous panels placed before our areas to anticipate and preserve your safety.
The rest areas of Survilliers and Pont Sainte Maxence on the A1: XL areas for trucks
On the A1 motorway, which has the highest rate of heavy goods vehicles (25%), you can plan your break at the Survilliers and Pont Sainte-Maxence rest areas. Located respectively about thirty and sixty kilometers from Paris, these areas are exclusively reserved for truck drivers and therefore constitute a privileged stopover for you. Accessible in both directions, they are also equipped with toilets.
On the Vémars Ouest rest area, a break is guaranteed
Do you know the particularity of the Vémars Ouest service area on the A1 in the Lille>Paris direction? Located about thirty km from the capital, it has a guarded car park exclusively reserved for parking heavy goods vehicles.
By stopping to take a break in the Vémars secure car park, accessible 24/7, you are sure to be able to relax without the stress of freight theft. The site is indeed equipped with a complete security system (surveillance cameras, control of license plates, 24/7 supervision, fences, pedestrian access badges, anti-intrusion barriers, reinforced lighting, etc.).
Rates as of January 03, 2023
€3.10 excl. VAT/hour, then beyond 10 hours flat rate:
| | |
| --- | --- |
| Weekday package (9 a.m. to 7 p.m.) | €15.50 |
| Week night package (7 p.m. to 9 a.m.) | €31.00 |
| Weekend package (Friday 7 p.m. to Monday 9 a.m.) | €46,50 |
More info to take the motorway