A stop at the Hardivillers service area is a good initiative, as you will discover the very comprehensive services to satisfy the traveler on the A16 motorway.
My vehicle

Electric charging station

Bus parking

Camper van dump station

Tyre inflation station

TotalEnergies

TotalEnergies Charge Rapide
My catering services

Drinks and treats machine

Picnic tables

Comptoir café

La Croissanterie

Roberta Caffe
Shop & services

Defibrillator

Local products

Disabled access

Dog Space

Wi-Fi

Tourist information

Bonjour
The services of the Hardivillers area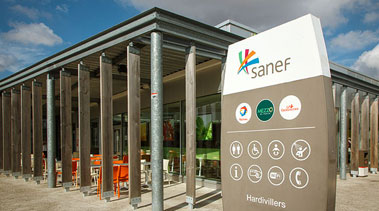 179 parking spaces
8 charging stations from 50 kW to 150 kW, with 8 charge points
PRM accessibility
Total service station
Electric vehicle charging station
Hello Shop
Creperie Crep'eat
Children's play area
Nursery
ATM
It is easy for you to access the Hardivillers service area thanks to a very practical footbridge. The two ends allow you to enter and exit without difficulty and even to turn around if you want. A space has also been designed to take care of your pet.
Essential needs such as fuel, inflation, or the satisfaction of small appetites find a solution well beyond expectations. From the espresso coffee at La Croissanterie to the crêpes at the Crep'eat restaurant, not forgetting the pampering of the very young in the nursery, everything is a matter of comfort. There is also a bonjour shop, a hot dog restaurant and the Roberta Caffe.
Want to discover all our motorway service areas?