Take a break at the Vignacourt Est rest area, located on the A16 motorway from Paris towards Dunkirk, a few kilometres before exit 21, not far from Vignacourt.
Equipment at the Vignacourt Est rest area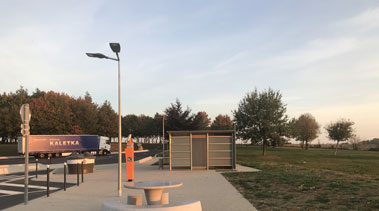 22 parking spaces
3 picnic tables
Spending hours at the wheel makes us tired. To take a break, stop at the Vignacourt Est service area at km 139 on the A16 motorway, before exit 21, on your journey from Paris to Dunkirk.
Take a walk or have a family picnic on site. Unpack your groceries, forget about the traffic and enjoy the calmness of the surroundings.
Before continuing, visit the village. Discover the Église Saint-Firmin and the military museum. Make your trip memorable by taking souvenir photos in these beautiful local heritage sites.
Want to discover all our motorway service areas?