Take a break at Prévilliers on the A4 at kilometre 45 from Strasbourg to Paris to relax and make your journey more enjoyable.
Equipment at the Prévilliers rest area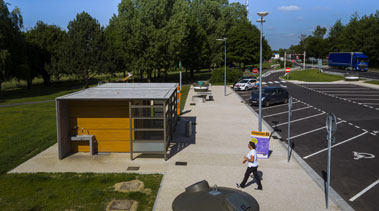 31 parking spaces
11 picnic tables
Driving is tiring when it's a long journey. Take a relaxing break at the Prévilliers rest area, at km 45 on the A4 motorway, when you are travelling to the capital from Reims. 
Do some stretching and a little walking to do your body and head good. You can then have a picnic on one of the tables set up on the spot to satisfy your hunger.
On the road, in Bailly-Romainvilliers, you will discover the large residential leisure park Disney's Davy Crockett Ranch. Located in the heart of the forest, this park revisits the world of the Wild West through the legendary figure of Davy Crockett. Bring your children along for the fun. 
Want to discover all our motorway service areas?