Take a break at the area of Beauchêne Sud, located on the A13 motorway from Caen towards Paris, a few kilometres from the Château de Beauchêne.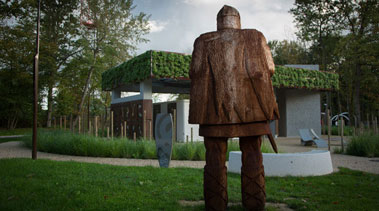 Over 19 parking spaces
10 picnic tables
You leave for the capital. On the A13 motorway, from Caen to Paris, discover the area of Beauchêne Sud where you can enjoy a picnic break. This relaxation area is located between the area of Vironvay Sud and the area of Douains Sud, about 77 km before Paris.  
Discover the Beauchêne Sud area. Its services, car park, toilets, access for disabled people, picnic tables welcome you at any time of the day or night. But above all, go back in time and meet the Vikings!
The Château de Beauchêne is not far away. With its private wooded park of 7 hectares, its large central lawn, its 2 ponds and terrace, it is an ideal place for your private and professional events. Built in the 17th century, it includes two large rooms, separated by a large old fireplace, which can accommodate up to 150 people.
Want to discover all our motorway service areas?